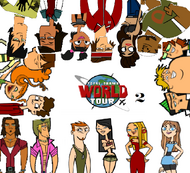 The fifth season of TDAFan's Camps! Thsi season there are three teams
Team Amazon 2
,
Team Victory
and
Team Chris Is Really Really Really Really Hot
This season there will also only be 18 contestants which means 6 people per team. This season is a lot like season 3 but with 4 new people which include
Scott
,
Cameron
,
Anne Maria
, and
Blaineley
! Which team will come on top? Find out on
Total Drama World Tour
2!!!!
Elimination
Edit
~~My TDWT Camp Places~~

18. Noah
17. Tyler
16. Ann Maria
15. trent
14. Cody
13. gwen

12.DJ & Duncan
11.Harold
10.Blaineley
9.Cameron
10. eva
8.Alejandro/Leshawna
7.Heather
6. Izzy
5. Justin
4. Duncan
3.Geoff
Runner up.Darcy
Winner. Scott
Team Amazon 2: Team Captain: heather, leshawna, gwen,courtney, sierra and cody
Team Victory: Team Captain: DJ, izzy, ,eva,Sadie,Cameron,Scott and katie

Team Chris Is Really Really Really Really Hot: Team Captain: Geoff, Duncan, Tyler, Darcy, Owen, Anne Maria and Justin
1. The Mysterious Pyramid
2.I CAN help Falling In Love In Paris
3. Amazing Amazon
4.Rip the Jack? Or Jack The Ripper!
5.Theres Lots Not To Love About New York!
6. Aftermath: The First Four
7. This Is Anything But Fun!
8. A Newf Scource Of Drama
9. Rapa No-ey
10. Bingo Dingos
11. i hate you
Music In Order from Episode
Edit
1. Come Fly With Us
2. Love Drunk
3. Over You
4. Jack The Ripper Is Coming For You
5. Whats Not To Love?
6. This is Way 2 Much Fun
7. Sea Shanty
8. Condor
9. l hate you
10. love you
11. shut up and lady
Ad blocker interference detected!
Wikia is a free-to-use site that makes money from advertising. We have a modified experience for viewers using ad blockers

Wikia is not accessible if you've made further modifications. Remove the custom ad blocker rule(s) and the page will load as expected.