&nbsp
22 Teens have to spend...a...LONG.... LONG time at a crappy old summer camp! Named Camp WAWANAKWA! They're competing for one million dollars! In this second season drama unfolds! Many people quit! Arguments heat up! And theres ONE WINNER! One MAJOR LOSER! And one second place finisher that needs to redeem herself next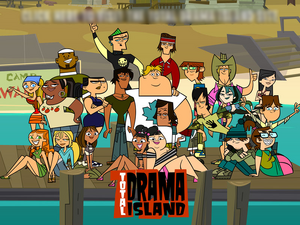 season!TOTAL..............DRAMA...................ISLAND!!
Elimination

Edit
28..Owen
27.Sadie
26.DJ
25.Duncan
24.Trent
23.Noah
22.Ezekiel
(Owen Returns, Ezekiel is replaced)
21.Ezekiel
20.Beth
19.Courtney
18.Katie
17.Cody/Eva
16.sierra/alejandro
(Ezekiel And Katie return)
15.Gwen
14.Harold
13.Izzy
12.Ezekiel
11.Justin
*TDATV Joins the camp*
10.Geoff
9.Bridgette
(Harold Returns)
8.Owen/Izzy
7.Izzy/Owen
6.Harold
5.Tyler
4.Katie
3 lindasy
RUNNER UP-LeShawna
WINNER-heather
Ad blocker interference detected!
Wikia is a free-to-use site that makes money from advertising. We have a modified experience for viewers using ad blockers

Wikia is not accessible if you've made further modifications. Remove the custom ad blocker rule(s) and the page will load as expected.