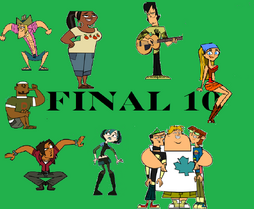 This episode begins with Chris playing loud music and waking up the competitors in the middle of the night. Chris WAS going to give them a nice meal for the final ten, as stated
a few episodes ago
. However, Owen ate it all himself last night. So No meal, instead a surprise! 9 hard-core fans of Total Drama Reunion were chosen to be partnered with out 10 competitors. One loser would be returning so we had equal pairs. Katie returned. All the fans were partnered with the person they wanted to stay with the least. Their first challenge, survive a night on the thrill ride set. Geoff and His fan were first off the thrill ride. Winning them a ten second lengthening to their time in the next challenge. Last the longest on the Vomit Comet!! Harold and Katie went first and set an unbeatable time no one could top! Harold won individual immunity for the third time (second consecutively). Trent would have won but his fan (trent1fan) sabotaged his run and made him lose.
The Anti-Darcy Alliance
decided to vote off Owen, while in an un-aired event, the opposite alliance decided to vote out Lindsay. At the Chris Ceremony the bottom three was Owen, Lindsay, and LeShawna. LeShawna got the FINAL chris in a shocking double elimination that sent home one member of each alliance. It may seem that Harold, Duncan, and Dj are impossible to stop, but luckily, Trent, Geoff, LeShawna, and Gwen might come up with a plan to get revenge for the second most liked contestant on the show!'
thumb|right|300px|Lindsay's Goodbye Tribute thumb|300px|right|Owen's Goodbye Tribute
Ad blocker interference detected!
Wikia is a free-to-use site that makes money from advertising. We have a modified experience for viewers using ad blockers

Wikia is not accessible if you've made further modifications. Remove the custom ad blocker rule(s) and the page will load as expected.