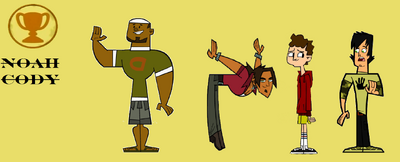 Team Victory

Team Captain:

First Apperence:

Last Apperence:

"TBA"

Highest and Lowest Ranking:

Highest:

Lowest: Noah 6th

Alliances (Known):

No information

Team Victory(AKA Boy team) is one of the teams in Total Drama World Tour season 5! They had got second place in the first episode because Cody was the last to do challenge but did it before Tyler a member of "Team Chris Is Really Really Really Really Hot".
Members of Team
Edit
Team Captain: DJ- torterrarulz
Cameron- ImMatt1
Alejandro- duncan9876543210
Noah- tdcamper22
Trent- crasi4tunes
Cody-antcampersonguy
Ad blocker interference detected!
Wikia is a free-to-use site that makes money from advertising. We have a modified experience for viewers using ad blockers

Wikia is not accessible if you've made further modifications. Remove the custom ad blocker rule(s) and the page will load as expected.