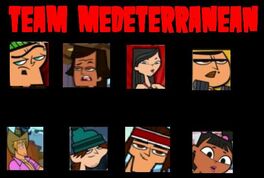 Team Mediterranean was one of Three teams in Total Drama World Tour. They remained an "in the middle" team for a while before going on a losing streak! Heather switched from Team Mediterranean to Team Amazon near the beginning of the competition! Making them even weaker! Even though they have two of some of the strongest players....
The original members of Team Mediterranean were Heather, Ezekiel, Katie, Geoff, Noah, Eva, Tyler, and Duncan. Heather left their team for Team Amazon though....
Props to Duncan for being the last member on Team Mediterrranean that is still in the game! Though this might change in the Return Challenge!
1st Out: Katie
2nd Out: Ezekiel
3rd Out: Noah
4th Out: Tyler
5th Out: Geoff
6th Out: Eva
7th Out:Heather
8th Out:Duncan
Ad blocker interference detected!
Wikia is a free-to-use site that makes money from advertising. We have a modified experience for viewers using ad blockers

Wikia is not accessible if you've made further modifications. Remove the custom ad blocker rule(s) and the page will load as expected.