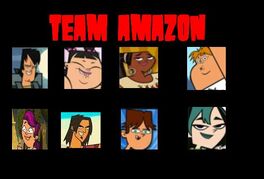 IMPORTANT INFORMATION!! THIS IS NOT TEAM AMAZON FROM THE LATEST TOTAL DRAMA WORLD TOUR. THIS IS OLD TEAM AMAZON. IF YOU WANT TO GO TO THE NEW TEAM AMAZONS PAGE CLICK HERE
Team Amazon was one of the Three Teams of Eight people in Total Drama World Tour. It started out as the underdog team, being shrunk down to only TWO PLAYERS! However, Alejandro Returned and Heather swapped teams. They were given the upper hand from then on!
Team Amazon originally consisted of Alejandro, Sadie, Gwen, Cody, LeShawna, Sierra, Owen, and Trent. However, Heather switched from Team Mediterranean to join Team Amazon at their low point!
LeShawna is now the last surviving member of the original Team Amazon.
1st Out: Sadie
2nd Out: Cody
3rd Out: Alejandro
4th Out: Owen
5th Out: Trent
6th Out: Sierra
7th Out: Alejandro
8th Out: Owen
9th Out: Gwen
10th Out: Trent
11th Out:It could've been LeShawna if Bridgette won Total Drama World Tour,but instead,2 winners were annouced instead of 1 this season,so they both won and niether got out
Every single person who returned in Total Drama World Tour was a past member of team Amazon. Those people being Alejandro, Owen, and Trent.
Six out of the EIGHT members of Team Amazon were all screaming Gophers! If you count Heather...who joined later that makes SEVEN
Ad blocker interference detected!
Wikia is a free-to-use site that makes money from advertising. We have a modified experience for viewers using ad blockers

Wikia is not accessible if you've made further modifications. Remove the custom ad blocker rule(s) and the page will load as expected.