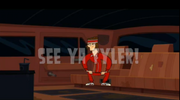 After
Beth
and
Eva
's elimination the boys in the trailer all agreed they were happy that
Beth
took the lame-o-sine ride home. Meanwhile, a relationship was forming.
Harold
and
Izzy
turned out to have a real shine for each other.
Chris
gathered all the contestants for their first challenge of the season. Since this season was a reunion of
Total Drama Action
, the challenges were still based on Movie Genres and this episode was the superhero movie. One contestant from the Heroes would be partnered with one contestant from the
Villains
. The challenge? To defeat your opponent before they defeat you. After all the fighting went on, the
Villains
won and the heroes were being sent to the elimination ceremony.
Bridgette
and
LeShawna
chatted for a while congratulating each other on being co-winners
last season
and
LeShawna
had to leave for the ceremony. At the ceremony,
Tyler
received the most votes and took a ride in the Lame-o-sine.