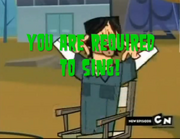 In "So You Think You Can Sing?" It starts out with Izzy, Heather and LeShawna and they start talking about why Izzy had choosen the reward instead of the team immunity and Heather thought it was a little selfish yet smart. Then they all make up and go to the beach scene to party. Next scene Chris and Chef Hatchet tell the contestants that the next challenge is a singing contest and they have to make up there own song to a song. In confessional LeShawna says there is no way she is singing without a smachdown!!, and Gwen says "I was kidnapped now i have to sing"!!!. Alejandro doesn't want to do it as well. All the contestants are complaining about singing except for Sierra. Chris tells them they have to sing in an hour so get ready! Times up and they all sing there song. Chris tells them one team won by a landslide and it was............The Heroes!!! Chris tells the Villains that he will see them at the ceremony and with a little plot twist!!! At the ceremony Chris tells them that they stink and have had 3 consecutive loses!!!! Then he tells them that two people will be leaving tonight and get ready to go from 8 to 6 contestants! The bottom three ended up as Justin, Duncan and Noah. Noah was there because he didn't do the challenge, Justin has been in the botton three twice and We really don't know why Duncan is in the bottom three. The first person of the night eliminated was....Noah! then they were down to Justin and Duncan and the person tat will be staying in the game is...............Duncan! The two people eliminated are Noah and Justin! and the last words from Justin were "Good luck you Villains"!
List Of Songs
Edit
Ad blocker interference detected!
Wikia is a free-to-use site that makes money from advertising. We have a modified experience for viewers using ad blockers

Wikia is not accessible if you've made further modifications. Remove the custom ad blocker rule(s) and the page will load as expected.