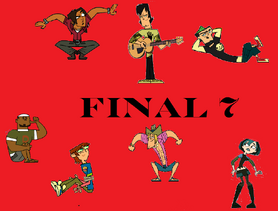 In this episode it is the final 7 and there fighting it out to save the princess in the next challenge "The Fairy Tale" Genre. There first challenge is to make it across the bridge and past the troll! Everyone got by except for
DJ
. There next challenge was to fight a Dragon and destroy it to get to
Gwen
.
Duncan
came on top and had destroyed the dragon and got to the top of the castle where him and
Gwen
and to fight it out for immunity.
Gwen
ended up winning which gave her immunity for tonight and another day to compete. At the ceremony everyone is deciding who should go while some cant make up there mind. It came down to the final two between
Harold
and
Trent
. The loser ended up being
Trent
and took the Lame-o-Zine to the other losers
Ad blocker interference detected!
Wikia is a free-to-use site that makes money from advertising. We have a modified experience for viewers using ad blockers

Wikia is not accessible if you've made further modifications. Remove the custom ad blocker rule(s) and the page will load as expected.